This would an Outrage!!!!!


---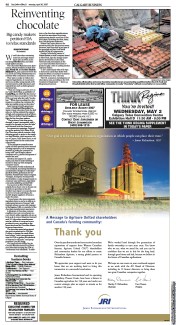 Reinventing chocolate
ADAM SATARIANO BLOOMBERG
Calgary Herald
30 Apr 2007

Would chocolate containing trans fats and sugar substitutes taste as sweet as the real thing? Hershey Co. and other candy makers say yes. The Chocolate Manufacturers Association, whose members include Hershey, Nestle SA and Archer Daniels Midland Co.,...
read more...
---
This email was sent to you by a Calgary Herald Digital user. This service contains copyrighted material, trade marks and other proprietary information. Receipt of this email should not be interpreted as grant of any licences express or implied, to the intellectual property of CanWest MediaWorks Publications Inc.
This email was sent to you by NewspaperDirect, Inc (200-13111 Vanier Place, Richmond, BC, Canada V6V 2J1, phone 1 604 278 4604) on behalf of Calgary Herald Digital.
2003-2007 Calgary Herald Digital. All rights reserved. Terms of Use | Privacy Statement